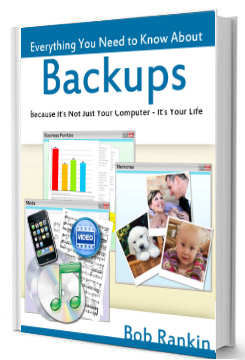 INSTANT DOWNLOAD!
(Includes BONUSES - see below)


---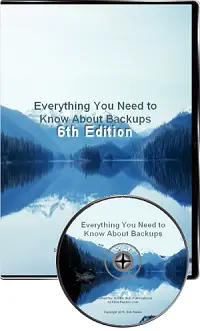 CDROM VERSION
(Includes BONUSES - see below)


The CDROM version includes the ebook and bonus reports, so you get instant gratification -- plus a CD to keep or give as a gift! Your CDROM will arrive packaged in a high-quality DVD case.

FREE Shipping anywhere in the world!

---


100% Money Back Satisfaction Guarantee
Are You Prepared for a Data Disaster?
(What Happens if Your Hard Drive Goes BOOM!)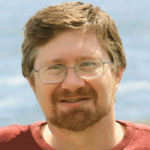 What happens when your hard drive crashes, or you accidentally delete an important file? What if your computer is lost or stolen? Are your files safe in the event of fire, hurricane, flood, or a computer virus?
A year ago, the unthinkable happened to me... a virus wiped out my entire hard drive! As a computer pro, I thought I had all the bases covered -- security updates, firewall, anti-virus, and anti-spyware -- but a "drive-by virus" zapped my hard drive, shut down my computer and left it unable to start.
It looked like a total loss, and it would have been devastating. My first thought was panic. But then I remembered I had a backup. So I fired up my backup software, and it restored everything, just like it was before the virus hit.
And then, it happened again! Just last month, a power surge rendered my brand new hard drive useless. I couldn't see ANY files on the drive, and it wouldn't start. This time there was no panic. And 23 minutes later, everything was restored from the previous night's backup.
Are you prepared for a data disaster? If you're not absolutely sure, I recommend that you read my new ebook:
Everything You Need to Know
About BACKUPS - 6th Edition
You've spent years creating the information on your hard drive. It holds everything -- your email, recipes, love letters, tax returns, family photos, videos, and stuff that you've downloaded from the Internet.
What would you do if you lost everything on your computer, your email or your mobile phone? The baby pictures, your extensive music collection, and the novel you've been working on? What if you lost your financial records... and you got audited? The IRS doesn't care if YOUR hard drive crashes.
Have you thought about the data on your mobile gadgets? If your phone was stolen, or went through the wash, just imagine losing your address book, photos, apps and text messages.
And here's something else to consider. More and more, our lives are moving online. What would you do if your email, or your Facebook profile got wiped out by a hacker, an angry ex, or a data center breach?

Here's Some Good News...
All of that might sound terribly depressing, but it doesn't have to be that way. If you prepare in advance for a data disaster, you can get EVERYTHING back and move on quickly.
Here's a sampling of what you'll learn in the new 6th Edition of "Everything You Need to Know About BACKUPS":
How to make sure ALL your files are backed up in a safe place
Where to get FREE backup software, and how to simply "set it and forget it" for automated backups
Online Backup - the pros and cons, free alternatives, and your privacy and security concerns addressed
How to back up your Email, Facebook, Twitter and other online accounts
Backing up your phone, which contains your contacts, photos, text messages, apps and other data.
Backup strategies, and step-by-step instructions for making full system backups
And of course, how to RECOVER everything, or just one file from a backup
I've also included tips for backing up Windows 10 and smartphones, the latest hardware and software for backups, more options for cloud storage, backing up your social media data, what to do if you're hit by a ransomware attack, and LOTS more. The book closes with My Personal Backup Strategy, and Backup Q&A, where I answer over two dozen of the best and most interesting questions from my survey on backups. You'll find something valuable in each of the 50+ chapters of "Everything You Need to Know About BACKUPS".
I've been helping people with computer problems for over 30 years. When I worked at IBM, I got the nickname "Doctor Bob" because I always had the answers to my co-workers' software and hardware questions. I left there in 1997, and began writing about computers, gadgets and the Internet for a larger audience. As publisher of the Internet Tourbus, and creator of the AskBobRankin tech support website, I've heard many sad stories from people who lost it all -- because they didn't have a backup.
You already know you need to back up your important information. This ebook provides you with the knowledge, skills and tools to get it done! Everything is explained in plain English, with no geek-speak or technobabble.
WHY DOESN'T EVERYONE MAKE BACKUPS?
I've heard lots of reasons for not doing backups. The most common one is "I'll do nothing and HOPE for the best." But there's a problem with that. HOPE is the strategy of the fearful, the uninformed, and the procrastinator. In this case, "doing nothing" is almost certain to lead to disaster. BUT... if you knew you could protect ALL your information on ALL your devices with little or no expense, and make it happen automatically, wouldn't that be great? Wouldn't it be awesome to have CONFIDENCE instead of HOPE? My ebook will show you how easy it is to get there.
Other people say "Backups are too complicated or time consuming." That might have been true 10 or 15 years ago, when you had to juggle floppy disks, a stack of CDs, or mess with backup tapes. But today we have "plug and play" devices that will start making automatic backups as soon as you plug them into your computer. Getting started with an online backup service is almost as easy, and both options can be configured to run at night, or when your computer is idle. I'll show you how, with examples and illustrations.
Another one I hear often is "Backups are too expensive." As I mentioned earlier, there are some really good free backup software options, and my ebook will show you some clever ways to access gobs of free online storage. I explain all the options, and point you to free or low-cost solutions every step of the way.
I talk all the time with people who are worried that their computer will crash, or that they'll get a virus or be hacked. Those are signs of Fear and Worry. I've written my ebook "Everything You Need to Know About BACKUPS" to help you replace those negative thoughts with Knowledge and Confidence. I want you to make this the year when you can say "Even if a data disaster happens, I am prepared and I have a plan to recover."
SOME READER REVIEWS:
"Your approach to speaking the language of your readers should be mandatory for all self-help publications." - Robert J.

"I purchased your BACKUPS ebook. It is chock full of vital information, and it's much more comprehensive than any previous edition. It's easily worth 10 times what I paid for it. Thank you for making this available to all of us." -- Mac

"Thanks so much for the backup ebook. It's a great resource, so well-written with complete, clear, just-techy-enough instructions that anyone should be able to use it to safeguard their computers. I found it very helpful for you to share your personal backup software choices and strategies." -- Gregg L.
PRICING and BONUSES
Here's the deal... I'm offering the latest edition of the BACKUPS ebook at a discounted price, with these SPECIAL BONUSES...
BONUS #1: Everything You Need to Know About HARD DRIVES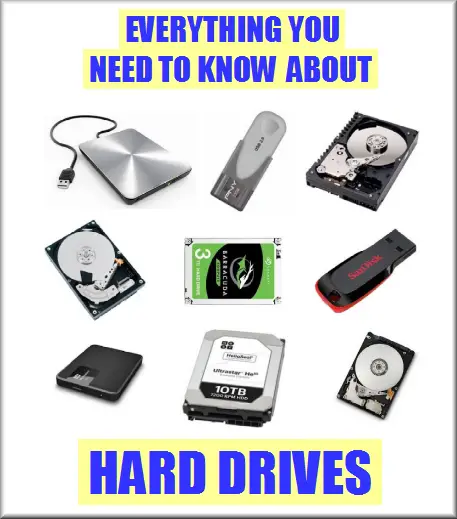 As a bonus to those who purchase the BACKUPS ebook, I'm including this brand new 105-page ebook, "Everything You Need to Know About HARD DRIVES". It's a $27.95 value, yours free with your purchase of the BACKUPS ebook.
In the 44 chapters of this ebook, you'll learn about the many different types of hard drives, how to keep them running smoothly, and the warning signs that may indicate that there's a problem. If something bad does happen, you'll find helpful tips and tools to help you recover your data.


BONUS #2: Money-Saving Consumer Tips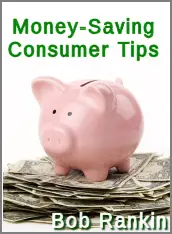 Another freebie, but a valuable one! You'll love this special 65-page report. In my travels around the Internet, I've discovered many online services that you can use to save money. In this "Money-Saving Consumer Tips" report, I'll share these secrets with you! You'll learn how to save money with online coupons and daily deal sites, cash in on your unused gift cards, and search government databases to find out if there's unclaimed money waiting for you.
There are tips on how to get the best deal on a new or used car, save money by comparing prescription drug prices online, and secrets to winning auctions on eBay. I'll show you how to ditch your landline, and fire the phone company. You can even replace your expensive cable TV subscription with free or cheaper online services.
Find out how to get your credit report and your credit score for free. And most importantly, you'll learn how to avoid common scams, ripoffs and identity theft. Let's begin!
| | |
| --- | --- |
| | Order your copy of "Everything You Need to Know About BACKUPS" now, for $27.95. Or purchase the CDROM version, with free Foxit Reader software, for $34.95. You get all of the bonuses listed above. |
If you follow my advice, you'll save much more than the price of the ebook. And with the secrets you'll learn in my special bonus reports, you can save hundreds of dollars more.
On top of that, I offer an unconditional satisfaction guarantee. If you're not 100% satisfied, I'll refund your money, no questions asked.



P.S. -- This 153-page ebook is packed full of rock-solid content -- no advertising, no gimmicks. I wrote the previous edition of "Everything You Need to Know About BACKUPS" over two years ago, and recently decided it was time to add some critical new information. This 6th Edition has new chapters, and lots of updated information. I'm positive you'll find this ebook to be worth every penny. In fact, if you follow my advice, you'll save many times more than the price paid. But if you're not completely satisfied, I'm offering a money-back guarantee. This special offer will expire soon, so get yours today!

P.P.S. -- The subject of backups has been on my mind a lot lately... After my experiences that wiped out my hard drive TWICE, I've been even more diligent to ensure that my personal data is safe. If you're not prepared for what happened to me, do yourself a favor -- read this ebook and learn "Everything You Need to Know About BACKUPS".


Ebook Version
INSTANT DOWNLOAD!
Price: $27.95


Make sure ALL your important files are backed up in a safe place. Backup your computers, email, mobile phone and social sites. Plus, learn about free backup software!

Includes the Bonuses shown above.

CDROM Version
INSTANT DOWNLOAD + CDROM
Price: $34.95


The CDROM version includes the ebook and bonus reports, so you get instant gratification -- plus a CD to keep or give as a gift! Your CDROM will arrive packaged in a high-quality DVD case.

FREE Shipping anywhere in the world!


You don't need a Kindle, Nook or iPad! View or print the ebook with any computer.